After suffering from fatigue, brain fog, joint pain, and chronic headaches and migraines, Laura reversed her autoimmune symptoms by changing her diet and lifestyle using the Autoimmune Protocol. As a Nutritional Therapy Practitioner and AIP Certified Coach, she is passionate about helping other women in their journey to better health.  Laura has been featured on CBS, WUSA9, Great Day Washington, and in Paleo Magazine, Washingtonian Magazine, and Tysons Premiere Magazine.
*NEW* Nutrivore Weekly Serving Matrix
An easy-to-use and flexible weekly checklist
to help you maximize nutrient-density.
The Weekly Serving Matrix is very helpful! I've been eating along these lines but this really helps me know where to focus vs. which foods serve a more secondary role. It's super helpful and has taken a lot of worry out of my meal planning. Thanks!

Jan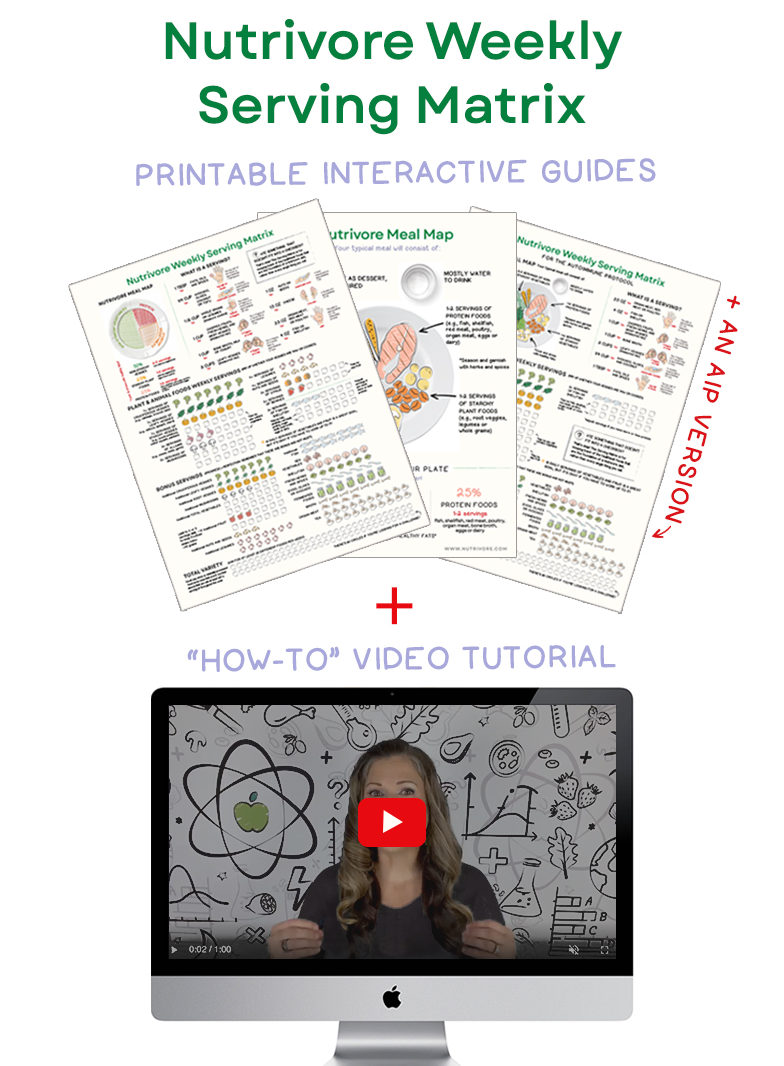 When she's not working with clients, you can find Laura playing games with her two boys, cheering on Duke basketball with her husband (they met while attending college at Duke!), relaxing with a great book, and grilling and chilling with friends on her deck.  You can learn more at www.lauramorrow.com. 
I caught up with Laura and asked her a few questions that I thought you'd love to read!
Thinking about joining the next session of the AIP Certified Coach practitioner training program? 
Classes fill up quickly so make sure to click here and sign up for my Healthcare Professionals e-mail list to get first dibs at enrollment for the next session!
---
Please share a little about your personal health journey and the role that the autoimmune protocol has played.
Back in 2015, I owned a skin care business and volunteered on the board of my son's preschool. After my second son was born, things started to spin out of control. I was struggling to make it through the day without a nap, and even though I went to the gym almost every day, I couldn't lose the baby weight.
Guide to Nutrivore e-book
Nutrivore is the simple yet revolutionary concept:
Choose foods to meet the body's nutritional needs!
I'm very excited about the Nutrivore information! Thank you so much for all your research and hard work you put into this kind of information for all of us to use!!

Debbie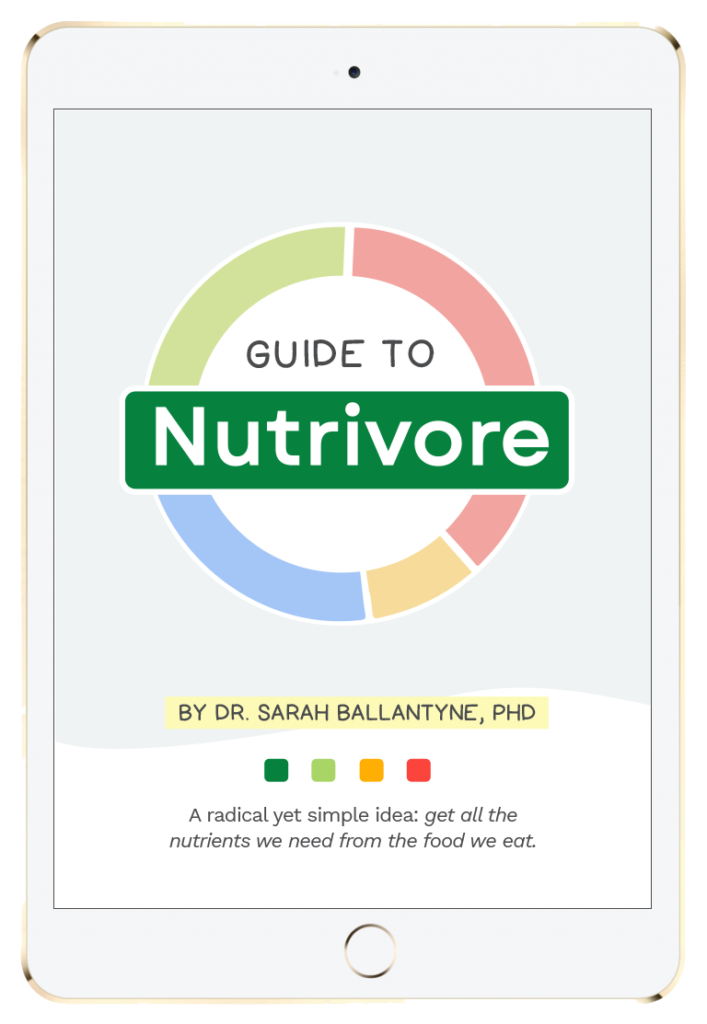 At first, I blamed my symptoms on having a newborn and a toddler. But one morning when I woke up with severe pain in my feet and ankles, tingling in my wrists, and stiffness in my hands, I knew something was very wrong. I couldn't even walk up one flight of stairs without wanting to cry from the pain. Of course, I started googling my symptoms, and two terrifying words popped off the page: "autoimmune disease."
I went to several doctors who ran multiple tests, all of which came back "normal" or showed general inflammation without any explanations. I was terrified that this might be my reality for the rest of my life. Luckily, I had an appointment for a routine adjustment with my chiropractor, and when I explained what had been going on, he immediately said, "Laura, you have to get this under control right now, because it will only get worse if you don't." He handed me an article by Dr. Sarah Ballantyne and told me to get started on the Autoimmune Protocol ASAP.
This was a life-changing moment for me. In just over three weeks, I was able to completely reverse my symptoms. I could walk normally again, the tingling and headaches were gone, I had so much energy that I was able to start a new business, and the baby weight finally started to come off.
The Nutrivore Collection
Save $10 on Guide to Nutrivore and the Nutrivore Weekly Serving Matrix!
I never realized how important nutrients are and how intricately the body works! I can't thank you enough for sharing all your knowledge and insights.

Cheryl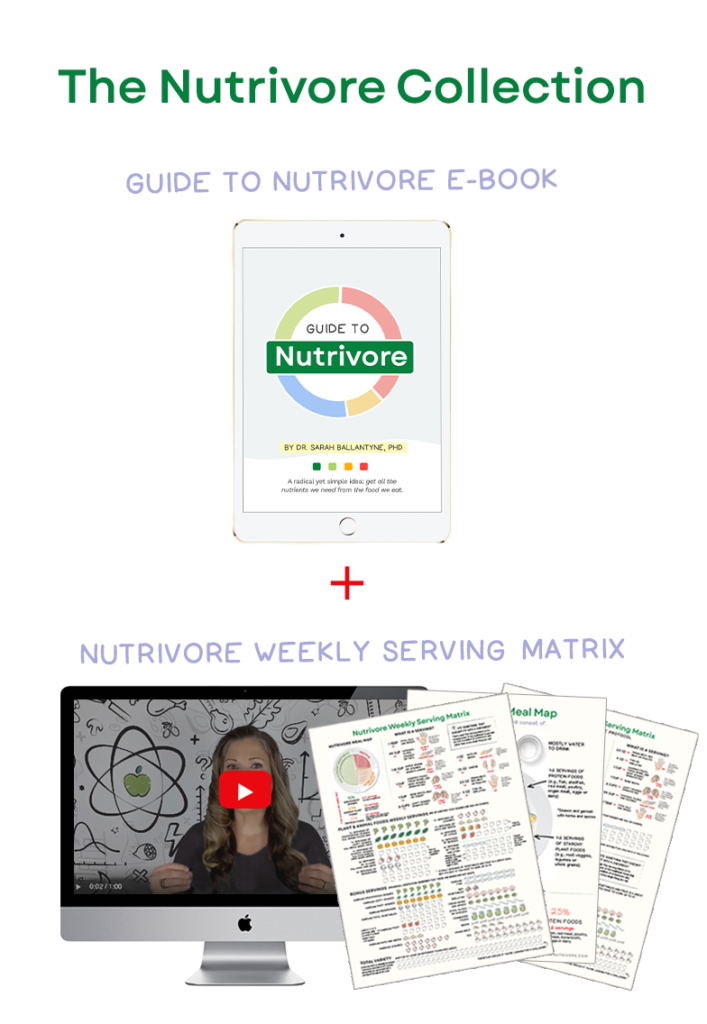 What made you want to be a health coach?
A month after I started AIP, I went on a business trip and brought all my own food in a cooler.  I was afraid that my colleagues would think that I was weird, but as I explained what I was eating and the difference that it had already made, they started sharing their own stories of unexplained symptoms and autoimmune disease.  For the first time I realized that I wasn't the only woman who was suffering.  I was so excited about my own results that I wanted to share what I learned.  Since I had no formal training and wanted to make an immediate impact, I started out by sharing snacks and recipes in a monthly AIP subscription box.   I quickly realized that I wanted to help women in a bigger way, so I went back to school online in May 2020.
What certifications do you have, and why did you choose that program?
As soon as I heard about the AIP Certified Coach course that had been created by my mentors Dr. Sarah Ballantyne, Mickey Trescott, and Angie Alt, I knew that it was exactly what I needed to help other women who were struggling with autoimmune disease.  I was excited to learn about the science behind AIP, as well as the in-depth diet and lifestyle factors that would help my clients move closer towards their health goals.  There was just one little problem – the program was only available to health practitioners, and I wasn't certified.
The Autoimmune Protocol e-book
Your practical guide to jump-start your healing with the AIP today.
One of my FAVORITE books I used to start the transition to AIP!!! It's so helpful! I printed mine out and spiral bound it. Thank you for this!

Rita Davidson
I let this hold me back for over two years, until it finally became clear to me that I was ready to help women get bigger results and I enrolled at the Nutritional Therapy Association to become a Nutritional Therapy Practitioner.  I was drawn to the NTA's strong science-based approach to eating anti-inflammatory whole foods, as well as its emphasis on teaching practical coaching skills that help clients reach their optimal health goals.  I enrolled in the AIP Certified Coach program just two weeks after completing my NTP certification, and immediately started implementing what I learned into my practice.
I am currently enrolled in two additional certification programs that I will complete by the end of June:
Certified Integrative Medicine Health Coach through the Academy for Integrative Medicine, which will allow me to use cutting-edge lab testing (GI Stool Testing, Adrenal & Hormone Saliva Test, and Food Sensitivity Test)
Supplement Quality Specialist through The Supplement Academy
Share a little more about your practice. How can my readers contact you to work with you?
In my completely virtual practice, I guide my private 1:1 clients step-by-step through the diet and lifestyle changes that help them increase energy, reduce pain, clear up brain fog, resolve digestive issues, balance hormones, and jumpstart weight loss in a way that is changing lives around the world.
One recent client diagnosed with Rheumatoid Arthritis could barely walk the three blocks to pick up her kids from school.  After six weeks of working together, she was able to complete a 3-mile hike through Zion National Park.  Another client celebrated 41 days without a migraine – after suffering multiple migraines a week for years.
I host a 5-Day Detox for Beginners group program once a quarter, and each month you'll find me co-hosting the free AIP Coaches Ask Us Anything webinar, along with fellow AIP Certified Coach Whitney Coupland.
For more information or to schedule a free online consultation, please email me at [email protected] or visit my website at www.lauramorrow.com.
The Gut Health Guidebook
Diet and lifestyle to nurture your gut microbiome and heal leaky gut!
The depth of information, practical tips, and the accessible way Dr. Sarah shows me how to apply complex science to improve my health is truly remarkable.

Wendy
Follow me on Instagram @lauramorrowwellness or Facebook Page at Laura Morrow Wellness.
What is your #1 tip that you give all of your clients?
The #1 tip that I give all my clients is that you're never too busy to take care of yourself.  As women, we're always striving for perfection in everything.  We're trying so hard to be Superwoman and to take care of everyone else that we feel like we don't have time to take care of our own basic needs, like eating and sleeping.  In fact, the opposite is true – when we get proper sleep and nutrition for our bodies, we are more productive and have more time to go around.  I teach my clients how to take care of themselves first so that they have more time and energy for the things they love.
Interested in becoming an AIP Certified Coach?
If you are a healthcare professional interested in this high-value certification, join my Healthcare Professionals e-mail list by clicking here (I send an infrequent newsletter with content relevant to health & wellness providers).  I will e-mail you with more information on how to become an AIP Certified Coach.
Join!