Made with prunes, oats, and almond butter, these cookies are ready in minutes and perfect on the road!
This post is sponsored by California Prunes.
You'll need the following ingredients to get started:
California prunes
Hot water
Oats
Almond butter
Cinnamon
Salt
When it comes to flavor, California prunes and almonds make the perfect pair. The prunes provide sweetness and help hold these cookies together. And luckily prunes have a lot more to offer.
California Prunes may help with gut health. Prunes are a good source of sorbitol, soluble and insoluble fiber, and antioxidants. Prunes are a prebiotic (those foods that nourish our gut bacteria) food and may offer some additional benefits to our gut microbiome.
Research suggests that prunes are effective at helping to relieve mild to moderate constipation. This is helpful for everyday life and can also be helpful for travel. Prunes are portable making them an easy snack to take on the road.
How to make prune puree
A simple prune puree is a key ingredient in these cookies. To make it, you'll combine prunes with hot water in a blender or food processor. The prune puree helps the cookies stay together without the need for eggs or other binders. It also adds sweetness and moisture and plenty of nutrition in the process.
Once you puree the prunes and combine with the oats and other ingredients, roll and press the cookies to prepare to bake.
Use fresh, plump prunes. Prunes are a pantry staple and have a long shelf life. But if yours have been hanging out a little too long and have started to dry out, the cookie dough will not easily come together.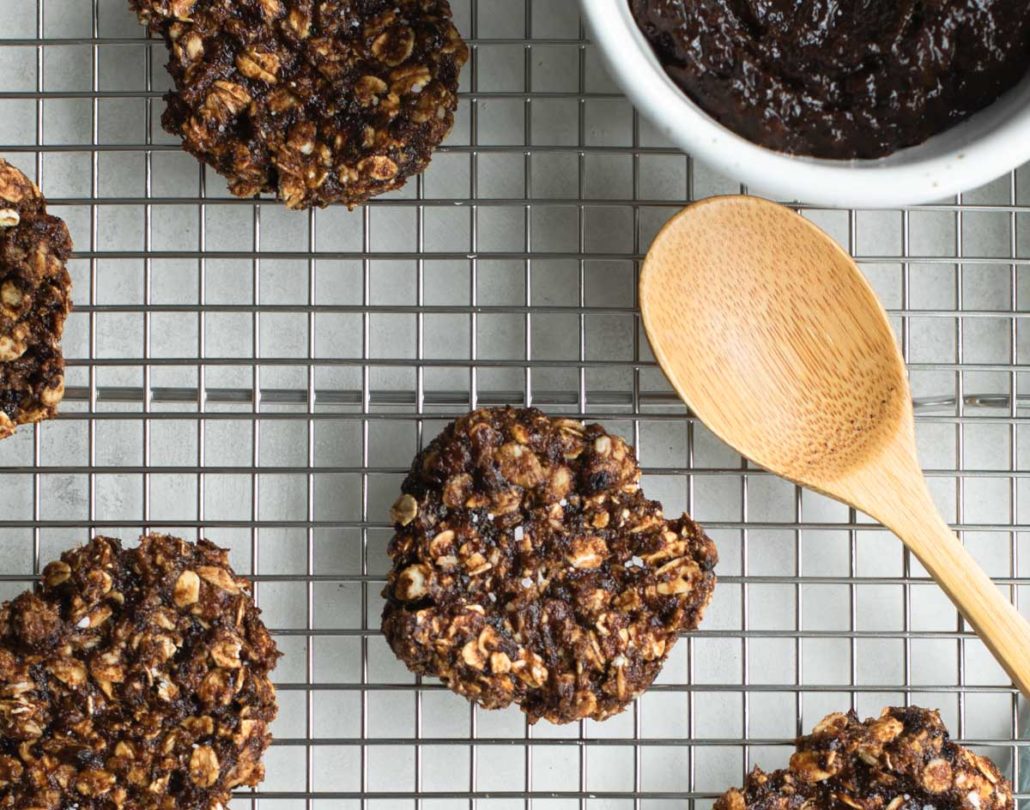 Prune Oatmeal Cookies
Made with prunes, oats, and almond butter, these cookies are ready in minutes and perfect for snacking on road trips and any travel.
Servings: 6 (2 cookies each)
Calories: 207kcal
Ingredients
4

ounces

prunes

¼

cup

hot water

1

cup

old fashioned oats

¼

cup

almond butter

⅓

cup

brown sugar

½

teaspoon

cinnamon

Pinch of salt
Instructions
Preheat the oven to 350°F. Lightly spray a half baking sheet with oil or line with parchment.

Blend the prunes with hot water in a small food processor or blender until a thick paste forms.

Place the puree in a medium mixing bowl. Stir in the oats, brown sugar, almond butter, cinnamon, and salt until a dough forms. Use a tablespoon measure to scoop the dough, roll, then flatten 12 small cookies and place on the prepared baking sheet. 

Bake at 350°F for about 12 minutes or until the cookies are lightly brown on the bottom and fragrant. Enjoy warm or let cool on a cooling rack before transferring to a sealed container for up to 3 days. 
Nutrition
Calories: 207kcal | Carbohydrates: 35g | Protein: 4g | Fat: 7g | Saturated Fat: 1g | Polyunsaturated Fat: 2g | Monounsaturated Fat: 4g | Sodium: 5mg | Potassium: 282mg | Fiber: 4g | Sugar: 20g | Vitamin A: 148IU | Vitamin C: 1mg | Calcium: 63mg | Iron: 1mg