My sweet friend Izabela from The Cake Mama is taking over the blog today, giving us the inside scoop on how to build the perfect gingerbread house complete with a recipe for vegan gingerbread and vegan royal icing! And oh my word, how CUTE! Take it away Izabela…..
Hello everyone! It's Izabela from The Cake Mama and I'm going to share with you my top secrets for creating a beautiful gingerbread house.
Around this time each year I start to think about what kind of baking I'd like to do to get into the spirit of the holidays. Gingerbread houses are an absolute must in the Cake Mama household and in the last couple of years I've gathered up the courage to bake the entire thing from scratch!
In this post I'm going to share my tried and true vegan gingerbread cookie recipe and royal icing which is perfect for building a house or simply stamping with festive cookie cutters. I've also included a paper template below for the sides of the house so that you can easily print them out, cut the shapes and place them over your rolled gingerbread.
3 Tips for cutting larger cookies
Cutting out larger cookies, such as this one that is used for a house, is tricker than cutting out smaller cookies. Here are are my best tips!
Chill your dough before rolling
Roll dough over a silicon mat or parchment that will fit on the cookie sheet you are baking them on, this way you can transfer the sheet or mat right on to the pan without lifting and warping the shapes
Use a piece of parchment overtop of your dough before rolling, this ensures you don't need to add more flour to reduce the stick thus ending up with a drier cookie
How to Build the Perfect Gingerbread House
I think the most daunting part about gingerbread houses is the actual decorating of them. If you've visited Pinterest lately you'll see some pretty extravagant designs and wonder how anyone could replicate one of them. While adding details such as candy and colours to gingerbread houses is fun, I prefer to focus on detailed piping and keep the palette classic with white icing over the gingerbread and I'm going to share how that's done!
Tip 1: Microplane Your Gingerbread House Pieces
Once your cookies have baked and cooled completely, they may have slightly lost their shape due to the spread when they bake. Using a microplane to file and straighten off the edges not only gives a cleaner appearance; it also ensures the bottoms of each piece are straight so your house is not lopsided.
Tip 2: Use White Food Color To Paint Your Design
This my friends is a game changer! By using a fine tipped brush and a little white food colouring it allows you to lightly trace out the design you want to eventually pipe out. You may want to sketch some ideas or concepts on a piece of paper with a pencil first to gain some muscle memory and experience but overall painting onto your gingerbread is the best place to start.

Tip 3: Decorate All Sides and Roof Before Assembling
I'm surprised at how many times I get messages from people on Instagram that their minds were blown when I've shown that I decorate the sides of a gingerbread house flat on a surface and not at an awkward angle pre-assembled LOL! Yes friends! Treat your gingerbread house just like a cookie you want to decorate and pipe your icing on each side before assembling. This will make your house picture perfect! *Note that your royal icing should be at a toothpaste consistency and if you are using metal piping tips that you go no bigger than a #2 size.
Tip 4: Use A Star Tip to "Glue" The House Together
I'm using a #21 open star tip for this part and the reason why is because the "stripes" that are left when you pipe create better grip for gluing the pieces together. It also doubles as the trim and finishing icing as well, so it saves you from having to use too many piping bags. *Note that your royal icing should be at a "cream cheese" consistency.
Once your decorations have fully dried (about 1 hour or so) it's time to glue the house together. Start by piping a line on either side of the front of the house on the back side. Attach one side piece and then the other. Repeat the first step and gently attach the back to the rest of the house. Allow the house to dry like this for about 30 minutes. If you plan to attach the house to a cake board or a cake stand, simply add a strip of icing to the bottom of all the pieces.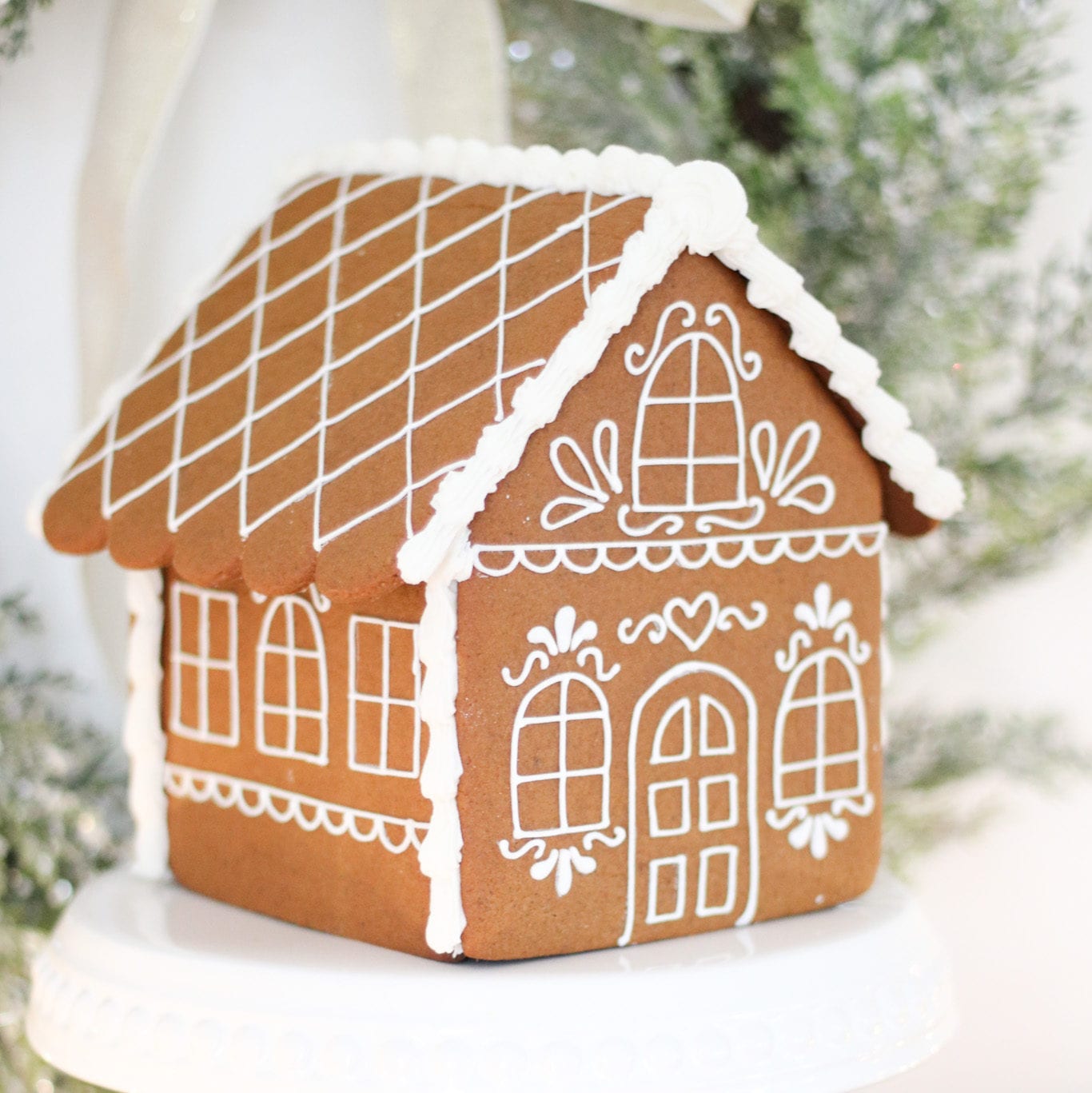 Finally apply some icing to the peaks of the front and backs of the gingerbread house and carefully attach the roof pieces. Allow this to dry for another 20 minutes before adding your final details.
Tip 5: Use A Sea Shell Piping Design To Clean Up & Dress Up Your House
Now that the house is fully assembled, it's time to hide some of the unsightly parts of the house such as the excess icing that may have squished through when affixing the pieces together. The simplest way to do this is to pipe a sea shell piping design with the star tip starting from the bottom and working your way up to under the roof. Do this on all four sides.
Finally you can add this piping design to the front edges of the roof top and the very top to close up any gaps that may exist after affixing all of the pieces together.
Voila! You have successfully built your gingerbread house! I hope you enjoyed this tutorial and if you do end up making a house please don't forget to tag me on Instagram!
Happy Decorating!
Vegan Gingerbread for Houses
The Perfect Homemade Gingerbread House Recipe
The Cake Mama shares her vegan gingerbread and royal icing recipe to make the perfect gingerbread house from scratch!
Ingredients
For the Gingerbread
1/2

cup

vegan butter

1/2

cup

brown sugar

1/2

cup

white sugar

3/4

cup

fancy molasses

2

flax eggs*

1

tablespoon

vanilla

2

teaspoons

baking soda

1/2

tablespoon

ground ginger

1/2

tablespoon

ground cinnamon

1/2

teaspoon

nutmeg

3 1/2

cups

all purpose flour

water, 1 tbsp at a time if necessary to hold dough together
For the Royal Icing
1

can

chickpeas for aquafaba

(use water from a can of chickpeas)

1

tablespoon

cream of tartar

1-2

2kg bags icing sugar

1

teaspoon

vanilla extract

(preferably Mexican vanilla)

bright white food color, to whiten
Instructions
For the Gingerbread
Preheat oven to 350 F. Cream butter and sugars in a mixer with the paddle attachment, then add vanilla.

In a small bowl, prepare flax egg and allow to thicken for a few minutes. In a separate bowl combine all dry ingredients. Add flax egg to wet ingredients and combine well. Then add molasses.

Gradually add flour mixture to wet ingredients. If mixture is too sticky, add a little more flour about 1/4c at a time. If mixture is too dry, add water about 1 tbsp at a time. Transfer dough between two pieces of parchment. Cut dough, remove dough scraps and transfer parchment to a cookie sheet for baking. Repeat process for gingerbread house or cookies.

Bake for 8-12 minutes or until edges are slightly darker. If your oven runs hot, start at 8 minutes! Allow to cool completely on cookie sheet before transferring. If making pieces for the house, prepare house one day prior to decorating to allow cookies to crisp and become more sturdy.
For the Royal Icing
Open one can of chickpeas (540ml) and strain liquid. Pour liquid into a mixer with paddle attachment and add cream of tartar. Whip aquafaba on high for about 10 minutes or until mixture has quadrupled in volume and resembles a meringue.

Bring speed down to stir, add vanilla, white food color and slowly add icing sugar. Mixture should be completely stiff- add water 1 tbsp at a time to create a stiff peak consistency. Your icing is ready!

From here, portion out icing about 1 cup and gradually add 1/4 tsp of water until mixture. is at desired consistency.
Recipe Notes
*one flax egg is equal to:1 tbsp ground flax, 3 tbsp warm water
More Gingerbread Recipes
For more gingerbread recipes to get you in the holiday spirit, try my homemade Gingerbread Ornaments, Pear Gingerbread Muffins or Pear Gingerbread Blender Pancakes!
Cake Mama Paper Template Gingerbread House